THE PURE WELLNESS
PHILOSOPHY
We help you to enhance your mind, body and, spirit! We offer an integrative, holistic, hormone-based approach to beat fatigue, fight disease, and OPTIMIZE your life. We encourage and empower our patients to ask questions and teach them to make healthier decisions.
We focus on improving and maintaining health in order to prevent disease. We pride ourselves in helping our patients appreciate their individuality as we strive to improve every aspect of their life. We are passionate about helping our patients achieve the quality of life they deserve.
The pure wellness
medical difference
We are a Concierge, Integrative, Membership based Wellness Center not just a Testosterone clinic. We offer a thorough evaluation and extensive individualized treatment programs. Time is never a limiting factor. You ask the questions and get all your answers in detail.
We encourage our patients to ask questions and empower them to become educated before making any decisions.
We specialize in

OPTIMIZING

your hormone levels and making you feel your best.

We offer nationwide

virtual visits

for your safety and convenience.

We get

lab work

initially and whenever you or the doctor feel necessary, to help evaluate your progress.

Your medication will be directly mailed

to the address you request, & you can order refills and additional supplements online.

As a

MEMBER

, you get

unlimited access

to our

APP

that has diet programs, recipes, exercise routines, webinars, videos, and articles to help improve your quality of life.

Best of all, you will have your own

Personal Wellness Coordinator

, who will be your main contact, help guide your care, assist you with refills, and make sure you are reaching your goals. You will always have access to our entire team including Prof. John, Director Gina, our Virtual and In-Office Staff, in addition to Dr. Suarez, whenever needed.
About our Founder and Medical Director
Dr. David Suarez
Dr. Suarez graduated from Osteopathic Medical School in 2005 and became Board-Certified in General Surgery, with a specialization in Cosmetic Surgery. Dr. Suarez found that he had a bigger impact on his patients' lives by healing them holistically from the inside out. He modified his practice to focus on hormone OPTIMIZATION, weight loss, and functional medicine where he could concentrate on finding and treating the cause of disease helping to prevent the complications of chronic illness. Since 2012, Dr. Suarez has been a leading innovator in the fields of hormone replacement, regenerative medicine, and weight loss. Dr. Suarez has made it his mission to create excitement around getting your health back and feeling revitalized. He specializes in a detailed approach and individualized protocols to help his patients OPTIMIZE their lives.
Dr Suarez's Personal Wellness Story
"I've been on a life-long journey toward absolute wellness. When I was ten, I convinced my parents to buy a 110-pound Sears weight and I never looked back. My journey started as a fun-loving child that never wanted to stop playing sports. It then led me to become a high school athlete, a certified personal trainer, and eventually a semi-professional football player. Health & Fitness have always been essential in my life and now I am blessed to enhance the mind, body, and spirit of my patients and help them OPTIMIZE their lives."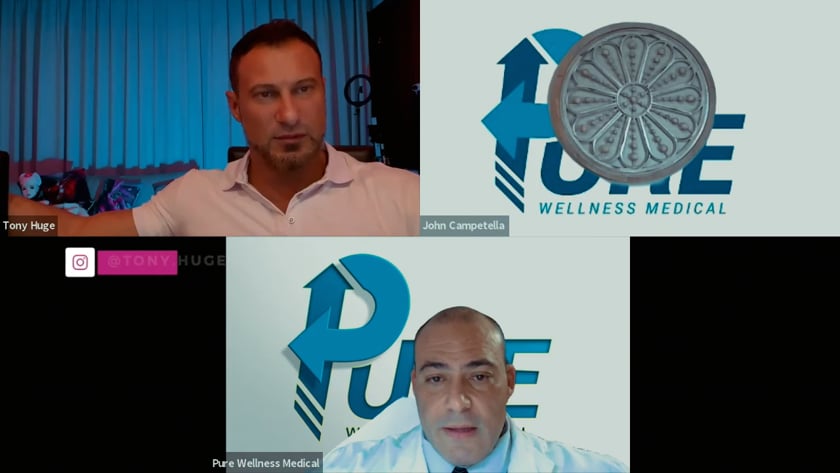 About our Director of Research and Education
Professor John Campetella, BA, MA, CFN
Prof. John has always been an athlete. In high school, he was a star wrestler and was truly skilled as an MMA student. Prof. John trained in Boxing/Kickboxing, Greco Roman and Freestyle Wrestling, Judo, Ju-Jitsu, and Russian Sambo. He saw the importance of strength training and proper nutrition to enhance his athletic ability. Prof. John was one of the pioneers in the early UFC and went on to own several MMA training centers and developed a passion for bodybuilding. He has trained with nationally ranked bodybuilders and powerlifters, in addition, is currently an NPC Bodybuilding competitor. Prof. John continues to excel in these areas and has brought his expertise and experience to our patients as a staff leader and as a patient. He truly lives what he preaches.
Prof. John Personal Wellness Story
"I've found the ideal home as Director of Research and Education for Pure Wellness Medical. I enjoy working directly with patients as their BHRT consultant and continually work with Dr. Suarez creating our medical grade supplement line and wellness programs. Working at Pure Wellness Medical allows me to help develop programs to teach healthier eating habits in a progressive, step by step manner.  My goal is to integrate the research and educate our patients on the importance of nutrition. We use the science that supports each element of our plan, helping our patients to become the best version of themselves."
About our Director of Business Development
Gina Trochiano, CHC, AADP, IFBB
Gina has more than 25 years of experience in the Health and Wellness Industry and is a highly driven entrepreneur. She is a world-class Professional Athlete and the Director of Business Development for Pure Wellness Medical. Her focus is on the business growth of the organization and coordinating patient success on a national level. Gina benefits from the science-based education and experience she received as an IFBB professional athlete and a board-certified holistic health coach. She is committed to sharing her experience, knowledge, and insights as one of our essential staff leaders and as a patient.
Director Gina's Personal Wellness Story
 "Health and fitness has always been a passion and driving force for my success. I've experienced my body changing and just not feeling as good as I used to. My education and experience as a health coach and professional athlete has taught me the essentials for success and happiness. I've worked with hundreds of clients over the years and loved being a part of their transformations. I've always believed that the best way to predict the future is to create it. I decided to join Dr. Suarez and lead Team Pure because we have the same beliefs, are backed by evidence-based treatments, and have the common goal of OPTIMIZING our patients' lives."